Privacy
PRIVACY
GENERAL
This privacy statement sets out how Novatech (UK) Ltd ("Novatech") complies with UK and European Union data protection requirements. This applies to the entire website. Any changes to these policies will be posted on www.info@novatechuk.com

You can also access this privacy statement via our homepage. Novatech is committed to respecting your privacy. We have structured our website so that, in general, you can visit Novatech on the web without identifying yourself or revealing any personal information. Once you choose to provide us with any information by which you can be identified, then you can be assured that it will only be used in accordance with this privacy statement.

For your protection, we are registered under the Data Protection Act 1998 and have given all appropriate notifications to the Information Commissioner.

WHAT WE COLLECT
We may collect the following information:
We may require that users supply personal information, including name, telephone number, fax number and email address prior to receiving specific information and materials through this website.
We may also ask you to provide us with information regarding your personal or professional interests, demographics, experiences with our services, and contact preferences in order to provide you with further correspondence about our services.
Some pages use cookies, a data analysis technique. In order to learn more, read about how we use cookies.

WHAT DO WE DO WITH THE INFORMATION WE GATHER?
We require this information to understand your needs and provide you with a better service, and in particular for the following reasons:
Internal record keeping.
We may use the information to improve our services.
Our representatives may follow up, either by email, phone, fax or mail, to people who have used services of on our site.
We may periodically send promotional email about the services provided on this site or other information which we think you may find interesting using the email address which you have provided when you registered as a user on this site.
From time to time, we may also use your information to contact you for market research purposes. We may contact you by email, phone, fax or mail.
We will not share information you provide with other parties.
If you would like further information about the Data Protection Act 1998, please contact Novatech (UK) Ltd, No 2 Angel Park, Drum Industrial Estate, Chester le Street, Co Durham, DH2 1AQ.

SECURITY
We are committed to ensuring that your information is secure. In order to prevent unauthorised access or disclosure we have put in place suitable physical, electronic and managerial procedures to safeguard and secure the information we collect online. We use encryption when collecting or transferring sensitive data such as personal information.

OTHER WEBSITES
Our website may contain links to enable you to visit other websites of interest easily. However, once you have used these links to leave our site you should note that we do not have any control over that other website. Therefore, we cannot be responsible for the protection and privacy of any information which you provide whilst visiting such sites and such sites are not governed by this privacy statement. You should exercise caution and look at the privacy statement applicable to the website in question.


HOW WE USE COOKIES
A cookie is a piece of text which asks permission to be placed on your computer's hard drive. Once you agree, your browser adds that text in a small file.
A cookie helps analyse web traffic or lets you know when you visit a particular site. Cookies allow web applications to respond to you as an individual.
The web application can tailor its operations to your needs, likes and dislikes by gathering and remembering information about your preferences. For example, when you visit an electronic store, a cookie makes it easier to shop, by allowing you to place things into a shopping basket; the basket itself is not the cookie, the cookie is placed on your hard drive and keeps track of your basket versus others in use at the same time.

We use traffic log cookies to identify which pages are being used. This helps us analyse data about web page traffic and improve our website in order to tailor it to customer needs. We only use this information for statistical analysis purposes and then the data is removed from the system. Denial of a traffic log cookie should not prevent you from using one of these sites.

Overall, cookies help us provide you with a better website, by enabling us to monitor which pages you find useful and which you do not. A cookie in no way gives us access to your computer or any information about you, other than the data you choose to share with us. This practice is strictly in force. We know that people have concerns about cookies, but we believe that the benefit we both gain from their proper use is worthwhile.

You may set your web browser (Microsoft Internet Explorer, Safari or Firefox) to notify you of cookie placement requests or decline cookies completely. You can delete the files that contain cookies - those files are stored as part of your internet browser.

 
SIGN UP FOR LATEST
PRODUCT ALERTS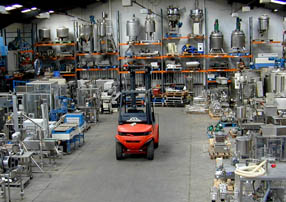 TESTIMONIALS
''Novatech have provided us with very high quality equipment time and time again and we have also sold Novatech our surplus equipment. We have always found Novatech to be very efficient with an excellent level of customer service and client understanding.''
Site Production Manager, Global pharmaceutical company based in India
''Novatech provided a great service and fast shipping, essential for our industry.''
Head of Production, Large Flavour and Fragrance Manufacturer in the UK
''Novatech stock is available with immediate collection, we were able to secure the required items, collect them, and start production within 1 week. We since secured the contract and have gone back to Novatech for larger scale production of the same item.''
Production Director, Large Contract Manufacturing Company in the UK