Communities
Novatech UK Ltd was formed in 1989 to provide a large range of high quality previously owned equipment to support the requirements of specific industries for new project and replacement purposes. A commitment was made to purchase for stock the highest quality of equipment available and from those humble beginnings has grown to current stock level value in excess of £2 million. Naturally it is totally impractical to attempt to support all industry sectors with their used equipment requirements, the following industry communities are the ones Novatech have dedicated themselves to and have become firmly established with.

HEALTHCARE, HUMAN AND ANIMAL PHARMACEUTICAL PRODUCTS
This community is responsible for manufacturing products to highly ethical standards requiring carefully controlled ethical procedures and protocols. Equipment used in the manufacturing process must have the quality and level of finish capable of achieving the precise, consistently repeatable results demanded by the ethical product manufacture.

PERSONAL CARE AND COSMETIC PRODUCTS
This is another global community manufacturing products which require equipment made to high quality standards and generally must have easy clean design features so suit "batch type" production scale. The filling and packaging aspects of these products requires equipment with precise accuracy and flexibility to suit size changes and output speeds.

CONTRACT MANUFACTURING/PACKAGING
This community has undergone rapid expansion as more and more companies are "out sourcing" their product manufacture to a contracting company who must observe the equipment quality and capability standards throughout the industry. To be able to successfully gain contract work it is essential that they can purchase instantly available equipment of the appropriate quality and specification to achieve as fast as possible response when bidding for contract work. Because of the long delivery times, buying new equipment is usually not an option. Our used equipment items are the ideal resource to provide the solutions.

CHEMICAL AND HOUSEHOLD PRODUCTS
The equipment requirements of this community are wide ranging and diverse in terms of scale and application. The extent and diversity of our stock enables us to offer a range of options into this community.

FOOD AND DRINK PRODUCTS
Due to the massive and diverse range of associated products a lot of the equipment used in the manufacturing process is bespoke purpose made for a specific product or application and it is impractical to stock equipment to suit the majority of their requirements although many of our stock items of a universal nature can be used successfully, i.e. Stainless steel vessels, blenders, mills, pumps and packaging machinery.

LABORATORY, TRIALS, PILOT SCALE AND RESEARCH & DEVELOPMENT
Novatech are supporting this community more and more by investing in the small scale equipment widely used in the aforementioned communities, e.g., items such as vessels, mills, homogenisers, mixers, pumps, scales etc and Novatech anticipate to eventually include the scientific aspects associated with this community.

SIGN UP FOR LATEST
PRODUCT ALERTS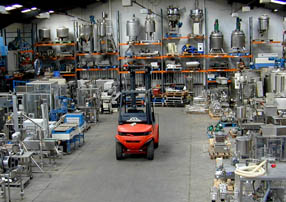 TESTIMONIALS
''Novatech have provided us with very high quality equipment time and time again and we have also sold Novatech our surplus equipment. We have always found Novatech to be very efficient with an excellent level of customer service and client understanding.''
Site Production Manager, Global pharmaceutical company based in India
''Novatech took our smaller vessel in part exchange saving us money. This is a very useful service enabling us to offset some of the cost of upgrading our equipment''
Managing Director, Global Toiletries Company based in Turkey
''Novatech stock is available with immediate collection, we were able to secure the required items, collect them, and start production within 1 week. We since secured the contract and have gone back to Novatech for larger scale production of the same item.''
Production Director, Large Contract Manufacturing Company in the UK